"Achieved Is the Glorious Work" from The Creation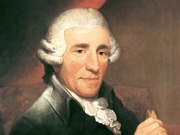 This chorus from "The Creation" takes care to follow the lines and voice leading from the original version, and is a festive work for any occasion.
The live performance below was part of a concert of the Washington Trombone Ensemble that featured Craig Mulcahy, David Murray and Matthew Guilford of the National Symphony Orchestra trombone section, and Andrew Skaggs.
View purchase details from RoundTree Music.